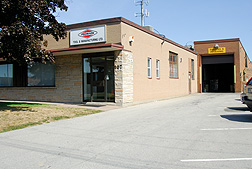 Over the past thirty years, the management and staff of our company have earned an international reputation for innovation, leading edge technology and an unwavering commitment to customer satisfaction.
Promark's dedication to excellence has been recognized and acknowledged with awards from several major multinational corporations, including Celestica Inc., Scientific Atlanta, Xerox Corporation, NCR and Silicon Graphics Inc.
As a manufacturer of metal stampings from all types of tooling, we know that the quality and dependability of your product relies on the effectiveness of our components. Superior quality is as important to us as it is to you – that's why our formal Quality System is registered under ISO9001, assuring you of quality products which have been process-controlled from receipt of your order through manufacturing, packaging and shipping. Our QMI registered Quality System was among the first in Ontario for metal stamping and assembly manufacture to achieve registration under this international standard.
Promark's high standards and commitment to quality ensure customer satisfaction to the last detail. We take pride in being readily adaptable to your needs, and have made it our mandate to get the job done professionally and efficiently every time.